The main goal of operation theatre services at Frontier Lifeline Hospital is to ensure patient safety as well as provide the highest quality care. This was established from the beginning of the hospital establishment. We offer the best multidisciplinary teamwork to abide by the protocol in maintaining a strict aseptic technique to safeguard patients from infection who have undergone surgeries starting from primary to complex issues.
The infrastructure in this heart hospital in Chennai accommodates and provides an environment for handling various types of surgeries besides preparing it for an emergency situation that may occur at any time.
Our team of expert cardiologists, radiologists, anesthetists, and administrative, technical, and nursing staff are fully committed to ensuring that our patients are given a comprehensive quality of care that is individualized and caters to their specific needs. Additionally, we strive to give our patients a positive and pleasant perioperative journey from the time of admission till discharge.
Our operation theatre in the hospital has state-of-the-art equipment to handle patients with advanced care. We take utmost precautions to avoid any surgical infection and aid the patients with cutting-edge treatments for rapid postoperative recovery in our specially designed recovery rooms and intensive care setup.
Surgical Procedures
We are well-equipped with cutting-edge technology to carry out the following procedures:
Coronary Artery Bypass Surgery
Valve Replacement/ Repair Surgery
Left Ventricular Assist Device Surgery
Surgery for Aneurysms and Dissections
Extracorporeal Membrane Oxygenation (ECMO) Procedure
The surgical team comprises cardiothoracic and vascular surgeons, consultant surgeons, and consultant anesthetists. The other members of the team are well-trained, experienced, and qualified, perfusionists and staff nurses who provide 24-hour cardiovascular surgical services to the patients.
Infrastructure: Operation Theatre Services
Operation theatre is considered to be the heart of any hospital and it should have the basic facilities to aid the medical experts in performing a successful surgery. Frontier Lifeline Hospital is coupled with all advanced devices and facilities relevant to cardiac issues.
Various surgical procedures are conducted in our operation theatres that are designed to work around the clock. Our modern operation theatre in the hospital conducts minor and major operations along with an exclusive operative theatre for handling emergency surgeries.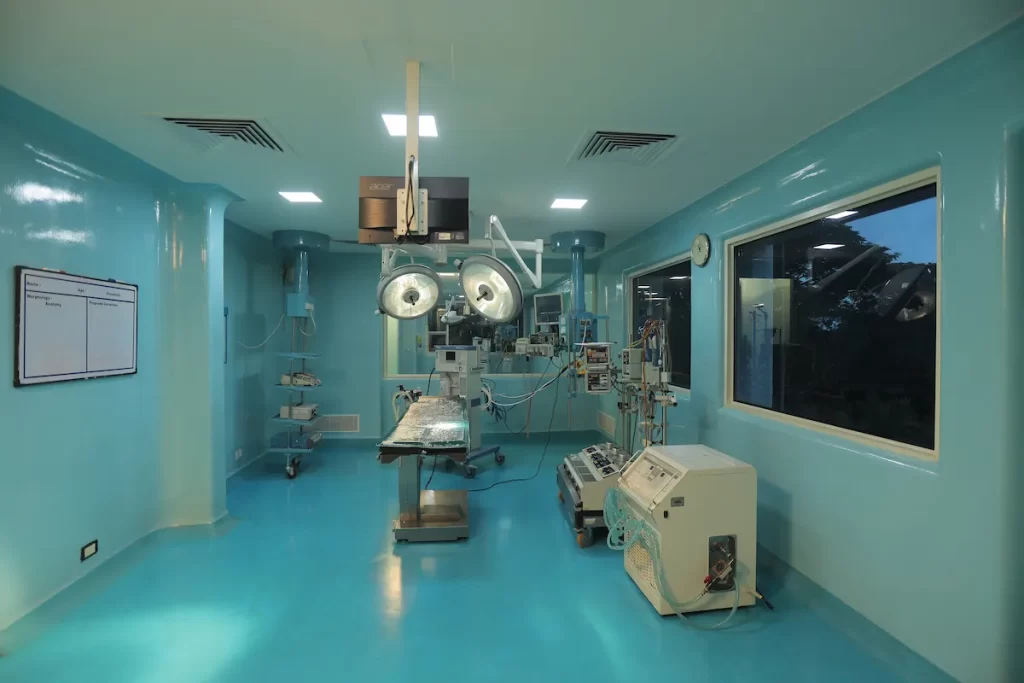 Anesthetic Gases and Oxygen Supply
Oxygen, Carbon dioxide, Nitrous Oxide, and Compressed air are provided through the pendant boxes filled inside the operation theatre. The oxygen is piped to the induction room, intensive care unit, post-operative recovery ward, and neonatal intensive care unit.
Postoperative Ward
The postoperative ward is a clean zone adjacent to the operation theatre. It is a bedded ward having provision to supply suction, compressed air, and oxygen. There are adequate equipment and facilities to attend to emergency cases and also to provide postoperative care. The experienced and dedicated nursing staff who were at the operation theatre in the hospital will take care of the patient till they are shifted to their respective wards.
Fire Fighting Arrangements
There is an effective firefighting system provided by fire extinguisher-related installation.
Special Equipment
Our operation theatres at Frontier Lifeline Hospital have high-tech facilities and state-of-the-art instruments with medio surgical, technical, and monitoring facilities. The operation theatre in the hospital is equipped with special equipment to ensure the patient gets the best quality of service. Some of them include:
Dragger Monitor
Rolla Endomat
Valley Lab
Ventilator
Excel 350 MCDS
Excel 400 MCDS
ELPRO X-Ray Unit
All Theatres are provided with head-end control modern operation tables
Cystoscopy Equipment
Electrical Suction Units
Specialized equipment for Trauma Surgeries
Electrical Suction Units
Central Suction Units
Manual Suction Units
Modern Diathermy Machine
HP, Criticare Multi-Parameter Vital Sign Monitor
Boils Anaesthesia Machine
Ceiling Cold Lights
Central Pendant Oxygen Supply
Central Pendant Nitrous Oxide Supply
Central Pendant Carbon-di-Oxide Supply
Vertical Autoclave Machine
Horizontal Large Autoclave Machine
Moreover, the operation theatre in the hospital includes change rooms for all paramedical and medical staff with conveniences, transfer cubicles for patients, equipment and material space, stores and records preserving room, chambers for administrative staff, pre-and post-operative areas, PACU (Post Anesthesia Care Unit) and ICU (Intensive Care Unit), sterile stores, a clean zone that connects protective zone to aseptic zone along with disposal zones.