At Frontier Lifeline Hospital we have a professional Lab in Chennai to provide diagnostic services for patients seeking advanced care besides collection services for outpatient clinics. We provide various clinical laboratory tests for in-patients, outpatients, and ambulatory care centre patients.
Our goal is to improve the health of the community by providing timely, accurate, and cost-effective testing services besides providing a full range of testing services. The lab is a vital part of your medical care because it gives you and your doctors detailed, objective data about your health.
Whether you need regular blood work or urine testing as a sector of a check-up or specialized tests to diagnose rare health conditions, count on us to provide a comprehensive range of services with some of the quickest round-the-clock services.
Our staff in this best lab in Chennai are highly trained and dedicated to providing reliable test results to offer you and your doctor a better understanding of your health. If your doctor suspects certain conditions or detects risks, he may recommend specific lab tests. You can also take the tests if you want a clearer picture of your health or if you want to know about the specific symptoms that affect your health.
Role and Functions of Laboratories
The sole purpose of the laboratory is to provide diagnostic and management information for the physicians to aid in patient care. The ultimate goal of the lab in Chennai is to attend to the ailing patients, carry out investigations, and deal with prompt issues of accurate results in favor of diagnosis and treatment.
An adequate understanding of blood test lab Chennai depends upon prompt, accurate reporting of the result obtained from a series of steps or processes. Each procedure or process enables the laboratorian at Frontier Lifeline Hospital to achieve more optimal conditions and to improve the accuracy and precision of each measurement consequently.
Also, the validity obtained in the lab in Chennai from the specimen itself is more dependent upon the excellence of laboratory technique, including the use of reagents of specified purity and proper manipulation of equipment.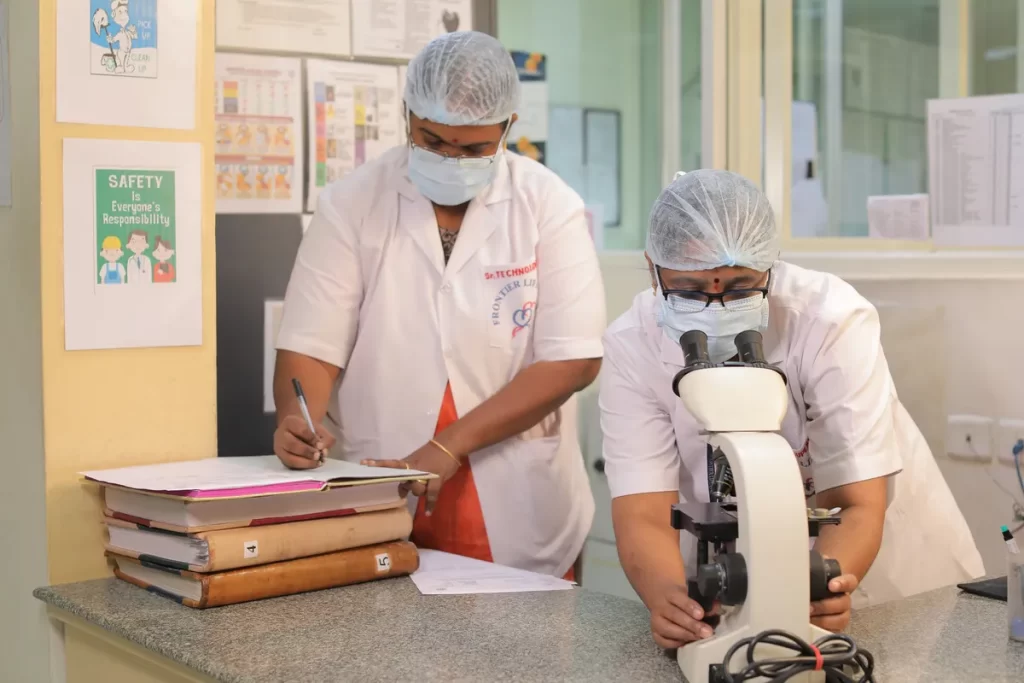 Services Offered
This best lab in Chennai gives excellent healthcare services to its patients. Together with our hardworking staff, the clinical laboratory upholds its deals in offering varied services and tests.
Hematology – Complete Blood Count, L.E. Cell Preparation, Platelet Count, Malarial Smear, Reticulocyte Count, Peripheral Smear, Coagulation Tests (PT, PTT) Clotting Time, Bleeding Time, Erythrocyte Sedimentation Rate (ESR).
Microbiology – Gram and Acid-Fast Bacilli (AFB) Staining, India Ink Staining, KOH and Wet Mount Examination, Culture and Sensitivity Testing are conducted in this best lab in Chennai.
Histopathology – Autopsy, Surgical Pathology, Cytopathology, Frozen Section.
Clinical chemistry – Routine Chemistry, 24 Hours Urinary Protein, Electrolytes Determination including Magnesium and Calcium, Glycosylated Hemoglobin, Creatinine Clearance, and Potassium and Troponin-T Quantitative.
Clinical microscopy – Body Fluid Analysis, Routine (Urine and Stool), Stool Concentration Techniques, Pregnancy Test, and Test for Ketones are taken in this lab in Chennai.
Blood banking – Crossmatching, Blood Component Preparation (Fresh Frozen Plasma (FFP), PRBC, Platelet Concentrate, Cryoprecipitate), Washing of RBC, Coombs Test, Packing of Red Cell, Screening / Bleeding of Donors, Autologous Transfusion and Antibody Screening.
Immunology/Serology – Serum Complement (C3), Antinuclear Antibody (ANA), Dengue Rapid Test and Dengue NS1, Rubella IgG, Hepatitis Profile, CRP, ASO, RF, Anti-TP, HIV, HCV.
Other special tests – The other tests taken in Frontier Lifeline Hospital's lab in Chennai include Thyroid Function Tests such as TSH, FT3, FT4, Tumour marker Tests such as Beta-HCG, PSA, CEA, AFP, CA 125, ANA, and Salmonella IgM & IgG.
Also, all the analyzers are bidirectionally interfaced to eliminate the manual programming errors with Laboratory Information System. Additionally, the blood test lab in Chennai has ultra-modern gadgets such as -80o and -30 deep freezers, refrigerated centrifuges, automatic plasma expression, and tube sealers with facilities to prepare, store and dispense blood components.
Final Thought
To sum up, anyone can get the greatest emphasis in the blood test lab in Chennai but if you ensure to get an accurate, precise, and speedy report, you can approach Frontier Lifeline Hospital because the laboratories here are equipped with state-of-the-art equipment to provide world-class results and uphold quality assurance.
Moreover, this lab in Chennai offers round-the-clock service i.e., 24 hours a day, 365 days a year to deliver the best possible services to the patients.